Walter Afanasieff is a Multi-Grammy producer, composer and songwriter. He is known to have worked with Mariah on numerous songs such as All I Want For Christmas Is You, Anytime You Need A Friend, Can't Let Go, Hero, etc. Walter started working with Mariah in 1990. Afanasieef has written and produced songs for various other leading artists such as Whitney Houston, Micheal Bolton, Micheal Jackson, & Babyface. Currently, (as of early 2019) Afanasieef splits his time between Los Angeles and Moscow, where he is a judge for Russia's X-Factor.[1]
Relationship
[
]
In a video from a segment of Mariah's 1993 Thanksgiving Special, Mariah described why she admired working with Afanasieff by saying:[2]
"
I like to sing him the harmonies and the things I'm hearing and he just plays.
"

– Mariah
Afanasieff also stated during the segment that:
"
Sooner or later we're writing a song, it's pretty profound being the meaning that her songs have, there's so much force behind them.
"

– Walter
In a German interview in 2006, Mariah was asked if she had plans to work with Afanasieff in which she replied "Nah" because she "hadn't seen him in a while" she also described her relationship with him as being "nice". Additionally, she stated that she might keep the thought of working with him again into consideration by saying: "who knows?"
In an article written by RadioTimes[3] in December 2018, It was stated that Walter & Mariah had a falling out.
"
I would have hoped that in 20 years, she would have knocked on my door – but she hasn't, so
"

– Walter to Radio Times
Afanasieff suggested that one of the reasons why they had a falling out was because of the separation between Tommy Mottola & Mariah in 1997.
"
The reason we stopped working together was primarily because she and her husband, who was the chairman of Sony Music, got a divorce. And I was under an exclusive contract with him. So, she left the building, she wasn't even on the label anymore, but I couldn't go and work with her because he wouldn't let me. So she found that to be a little bit of a slap in the face.
"

– Walter to RadioTimes
An alternate reason why Carey might have stopped working with Afanasieff according to Marc Shapiro is after:
Walter began producing an up-and-coming heir to the diva throne named Samantha Cole, who was very much like Mariah in looks and music styling. Mariah began to resent the time Walter was taking away from her sessions to work on Cole's album, and she must have felt that Cole was a threat to her status as top dog in the pop world. Resentment turned to jealousy when Walter and Samantha began to date.[4] The tension between Mariah and Walter grew, and she began to challenge openly and uncharacteristically some of Walter's creative choices in the studio. Then, one night while working on her album at the famed Hit Factory Studio, Mariah's emotions exploded. A minor disagreement over the arrangement of a song grew heated and ugly, and Mariah and Walter were soon screaming at each other. The argument spilled out of the studio and into the street where passersby reportedly heard Mariah say some nasty things about Walter dating Samantha. According to a New York Times report, Mariah allegedly fired Walter on the spot. The pair eventually calmed down and apologized to each other. Leslie Dart, a spokesperson for Mariah, tried to smooth things over. "He got mad and she got mad. It was simply a matter of Mariah not wanting the album to be overproduced. It had nothing to do with his romantic entanglements." But this was a side of Mariah that had not been seen before, and it was one that would not soon be forgotten by the media and the public.[5]
Afanasieff has also stated that Mariah fails to credit him.
"
"It doesn't matter how many interviews she's done or when she's on stage, she'll never ever say 'here's the song that I wrote with Walter'. She's made it her modus operandi [to neglect to mention his name when discussing the song]. We wrote the song together, my name is 50%, her name is 50%, we have equal shares."
"

– Walter to Radio Times
Despite their falling out, Afanasieff is grateful for Carey's impact on his life.
He ended off the interview by saying:
"
"I love Mariah Carey," "she's the greatest thing that ever happened to me. Unfortunately, it doesn't go both ways."
"

– Walter to RadioTimes
Works with Mariah Carey
[
]
Hero (co-written and co-produced) #1.
Others

[

]
Never Too Far/Hero Medley

(co-written and co-produced)
Trivia
[
]
Mariah and Walter were rumored to be working on the Me I Am Mariah ... The Elusive Chanteuse album. This was later proven false. [6]
In 2019, All I Want For Christmas is You became Mariah's 19th number one hit. [7] Afanasieff celebrated by retweeting numerous tweets recognizing the milestone. Afanasieff also tweeted: "I'm so very proud of this song that I co-wrote and produced!! Thank you everyone!! Merry Christmas! #1" His tweet received a mixed reception from fans.[8]
Mariah mentions Afanasieff in her performance of "Hero" during the Daydream World Tour in Tokyo, Japan[9]
Mariah met Walter through Narada Michael Walden.[10]
Gallery
[
]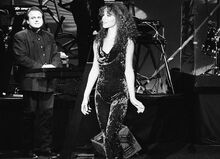 References
[
]