Mariah Carey (born March 27, 1970) is an American singer-songwriter, actress, record producer & director. She rose to prominence after releasing her self-titled debut studio album, Mariah Carey in 1990; it went multiplatinum and spawned four consecutive number one singles on the U.S. Billboard Hot 100 chart. Under the guidance of Columbia Records executive and later husband, Tommy Mottola, Mariah continued booking success with followup albums: Emotions (1991), Music Box (1993) & Merry Christmas (1994) and was established as Columbia's highest-selling act. Daydream (1995) made music history when its second single, One Sweet Day, a duet with Boyz II Men, spent a record sixteen weeks on top of the Billboard Hot 100, and remains the longest-running number-one song in U.S. chart history. During the recording of the album, Carey began to deviate from her R&B and pop beginnings and slowly traversed into hip hop. This musical change became evident with the release of Butterfly (1997), at which time Mariah had separated from Tommy.
Carey left Columbia in 2000, and signed a $100 million recording contract with Virgin Records America. Before the release of her film Glitter (2001), she suffered a physical and emotional breakdown and was hospitalized for severe exhaustion. Following the film and album's poor reception, she was bought out of her recording contract for $50 million, which led to a decline in her career. She signed a multimillion dollar contract deal with Island Records in 2002, and after an unsuccessful period, returned to the top of music charts with The Emancipation of Mimi (2005). Its second single "We Belong Together" became her most successful single of the 2000s, and was later named "Song of the Decade" by Billboard. Carey once again ventured into film with a well-received supporting role in Precious (2009); she was awarded the "Breakthrough Performance Award" at the Palm Springs International Film Festival, and received Black Reel and NAACP Image Award nominations.
Throughout her career, Carey has sold more than 280 million records worldwide, making her one of the best-selling music artists of all time. In 1998, she was honored as the world's best-selling recording artist of the 1990s at the World Music Awards. Carey was also named the best-selling female artist of the millennium in 2000. According to the Recording Industry Association of America, she is the third-best-selling female artist in the United States, with 64 million certified albums. With the release of "Touch My Body" (2008), Carey gained her 18th number-one single in the United States, more than any other solo artist. In 2012, Carey was ranked second on VH1's list of the "100 Greatest Women in Music". Aside from her commercial accomplishments, Carey has won five Grammy Awards, 20 World Music Awards, 13 American Music Awards, and 32 Billboard Music Awards. Referred to as the "songbird supreme" by the Guinness World Records, she is famed for her five-octave vocal range, power, melismatic style and signature use of the whistle register.
Career
1988-1992: Mariah Carey & Emotions
[1]Carey exiting the Shepherd's Bush Theatre after promoting her single "Vision of Love" on The Wogan Show, in 1990As Brenda K Starr's friendship with Carey grew, so did her interest in helping Carey succeed in the industry. In December 1988, Carey accompanied Starr to a record executives' gala, where she met the head of Columbia Records, Tommy Mottola, who listened to it on his way back home.[21][22] After the first two songs, he was so enamored of Carey's voice that he returned to the event, only to find that she had left.[22] In what has been widely described by critics as a modern day Cinderella tale,[23][24] after searching for Carey for two weeks, he immediately signed her and began mapping out her commercial debut.[21] While she maintained that she wanted to continue working with Margulies, Mottola enlisted top producers of the time, including Ric Wake, Narada Michael Walden and Rhett Lawrence.[21] Mottola and the staff at Columbia had planned to market Carey as their main female pop artist, competing with Whitney Houston and Madonna (signed to Arista and Sire Records respectively).[25] After the completion of her debut album, Mariah Carey, Columbia spent more than $1 million promoting it.[26] Despite a weak start, the album eventually reached the top of the Billboard 200, after Carey's exposure at the 33rd Annual Grammy Awards.[27] Mariah Carey stayed atop the charts for eleven consecutive weeks,[28] and she won the Best New Artist, and Best Female Pop Vocal Performance awards for her single "Vision of Love".[29] The album yielded three more number one singles on the Billboard Hot 100, following the four-week number-one run of "Vision of Love". Carey became the first artist since The Jackson 5 to have their first four singles reach number one.[30] Mariah Carey finished as the best-selling album in the United States in 1991,[31] while totaling sales of over 15 million copies.[32]
Carey began recording her second studio album, Emotions, in 1991.[33][34] She described it as a homage to Motown soul music, as she felt the need to pay tribute to the type of music that had influenced her as a child.[34] For the project, Carey worked with Walter Afanasieff, who only had a small role on her debut, as well as Robert Clivillés and David Cole, from the dance group C+C Music Factory.[35] Carey's relationship with Margulies deteriorated over a personal contract Carey had signed with him before signing the record deal with Columbia, agreeing to split not only the songwriting royalties from the songs, but half of her earnings as well. However, when the time came to write music for Emotions, Sony officials made it clear he would only be paid the fair amount given to co-writers on an album. Ben Margulies later filed a lawsuit against Sony which ultimately led to their parting of ways.[34] Emotions was released on September 17, 1991, and was accepted by critics as a more mature album than its predecessor.[36] While praised for Carey's improved songwriting, production, and new sound, the album was criticized for its material, thought weaker than that of her debut.[37] Though the album managed sales of over eight million copies globally, Emotions failed to reach the commercial and critical heights of its predecessor.[38]
As after the release of her debut, critics again questioned whether Carey would embark on a world tour to promote her material.[39] Although Carey explained that stage fright and the style of her songs made a tour very daunting, speculation grew that Carey was a "studio worm", and that she was incapable of producing the perfect pitch and 7-octave vocal range for which she was known.[23][40] In hopes of putting to rest any claims of her being a manufactured artist, Carey and Walter Afanasieff decided to book an appearance on MTV Unplugged, a television program aired by MTV.[41] The show presented name artists "unplugged" or stripped of studio equipment.[41] While Carey felt strongly of her more soulful and powerful songs, it was decided that her most popular content would be included. Days before the show's taping, Carey and Afanasieff thought of adding a cover version of an older song, in order to provide something different and unexpected.[42] They chose "I'll Be There", a song made popular by The Jackson 5 in 1970. On March 16, 1992, Carey recorded a seven-piece set-list at Kaufman Astoria Studios in Queens, New York.[43] The revue was met with critical acclaim, leading to it being aired more than three times as often as an average episode would.[44] The success tempted Sony officials to market it.[45] Sony decided to release it as an EP, priced low because it was short. The EP proved to be a success, contrary to critics and speculations that Carey was just a studio artist,[46] and was given a triple-Platinum certification by the Recording Industry Association of America (RIAA),[47] and managed Gold and Platinum certifications in several European markets.[45]
1993-1996: Music Box, international breakthrough & Daydream
"The writing partnership that her and I had and I can't speak for her other songwriting partners, but if you could see us in the room I would hit a chord and play a little melody on the piano and she would say, 'Oh, that's nice,' and she would sing that melody and then she adds a little bit to it. I would then play it back and then she would say, 'Yea, that's good' so it instantly becomes this partnership where eventually she'll have a melody and then the melody would prompt her to start thinking about this feeling she wants to put into words. This would eventually become the theme of the song." —Afanasieff, on his songwriting partnership with Carey.[48]During early 1993, Carey began working on her third studio album, Music Box.[49] After Emotions failed to achieve the commercial heights of her debut album, Carey and Columbia came to the agreement that the next album would contain a more pop influenced sound, in order to appeal to a wider audience.[49] During Carey's writing sessions, she began working mostly with Afanasieff, with whom she co-wrote and produced most of Music Box.[48] On August 31, Music Box was released around the world, debuting at number-one on the Billboard 200.[50] The album was met with mixed reception from music critics; while many praised the album's pop influence and strong content, others felt that Carey made less usage of her acclaimed vocal range.[51] Ron Wynn from AllMusic described Carey's different form of singing on the album: "It was wise for Carey to display other elements of her approach, but sometimes excessive spirit is preferable to an absence of passion."[52] The album's second single, "Hero", would eventually come to be one of Carey's most popular and inspirational songs of her career.[53] The song became Carey's eighth chart topper in the United States,[53] and began expanding Carey's popularity throughout Europe. With the release of the album's third single, Carey achieved several career milestones. Her cover of Badfinger's "Without You" became her first number one single in Germany, Sweden,[54] and the United Kingdom.[55]
Music Box spent prolonged periods at number one on the album charts of several countries,[56] and eventually became one of the best-selling albums of all time, with worldwide sales of over 32 million copies.[48] After declining to tour for her past two albums, Carey agreed to embark on a short stateside string of concerts, titled the Music Box Tour.[57] Spanning only six dates across North America,[57] the short but successful tour was a large step for Carey, who dreaded the hassle of touring.[58] Following Music Box, Carey took a relatively large period of time away from the public eye, and began working on an unknown project throughout 1994.[59] In October 1994, Billboard announced that Carey would release a holiday album later that year.[59] That 1994, Carey recorded a duet with Luther Vandross; a cover of Lionel Richie and Diana Ross's "Endless Love".[60] Carey's album Merry Christmas was released on November 1, 1994, on the same day that the album's first single, "All I Want for Christmas Is You", was released.[61] The album eventually became the best-selling Christmas album of all time, with global sales reaching over 15 million copies.[62][63][64] Additionally, "All I Want for Christmas Is You" was critically lauded, and is considered "one of the few worthy modern additions to the holiday canon."[62] Rolling Stone described it as a "holiday standard", and ranked it fourth on its Greatest Rock and Roll Christmas Songs list.[65] Commercially, it became the best-selling holiday ringtone of all time,[66] and the best-selling single by a non-Asian artist in Japan,[67] selling over 2.1 million units (both ringtone and digital download).[68][69] By the end of the holiday season of 1994, Carey and Afanasieff had already begun writing material for her next studio album, which would be released late the following year.[70] [2]Carey performing "One Sweet Day" alongside Boyz II Men, during a taping at Madison Square GardenReleased on October 3, 1995, Daydream combined the pop sensibilities of Music Box with downbeat R&B and hip hop influences.[71] The album's second single, "One Sweet Day" was inspired by the death of David Cole, as well as her sister Alison, who had contracted AIDS.[72] The song remained atop the Hot 100 for a record-holding 16 weeks, and became the longest-running number-one song in history.[73] Daydream became her biggest-selling album in the United States,[74] and became her second album to be certified Diamond by the RIAA, following Music Box.[47] The album again was the best-seller by an international artist in Japan, shipping over 2.2 million copies,[75] and eventually reaching global sales of over 25 million units.[32] Critically, the album was heralded as Carey's best to date; The New York Times named it one of 1995's best albums, and wrote, "best cuts bring R&B candy-making to a new peak of textural refinement [...] Carey's songwriting has taken a leap forward and become more relaxed, sexier and less reliant on thudding clichés."[76] Carey once again opted to embark on a short world tour titled Daydream World Tour. It had seven dates, three in Japan and four throughout Europe.[77] When tickets went on sale, Carey set records when all 150,000 tickets for her three shows at Japan's largest stadium, Tokyo Dome, sold out in under three hours, breaking the previous record held by The Rolling Stones.[77] Due to the album's success, Carey won two awards at the American Music Awards for her solo efforts: Favorite Pop/Rock Female Artist and Favorite Soul/R&B Female Artist.[78] Daydream and its singles were respectively nominated in six categories at the 38th Grammy Awards.[79] Carey, along with Boyz II Men, opened the event with a performance of "One Sweet Day".[80] However, Carey did not receive any award, prompting her to comment "What can you do? I will never be disappointed again. After I sat through the whole show and didn't win once, I can handle anything."[80] In 1995, due to Daydream '​s enormous Japanese sales, Billboard declared Carey the "Overseas Artist of the Year" in Japan.[81]
1997-2000: New image & independence, Butterfly and Rainbow
With her following albums, Carey began to take more initiative and control with her music, and started infusing more genres into her work.[82] During mid-1997, Carey was well underway, writing and recording material for her next album, Butterfly (1997).[83] She sought to work with other producers and writers other than Afanasieff, such as Sean Combs, Kamaal Fareed, Missy Elliott and Jean Claude Oliver and Samuel Barnes from Trackmasters.[83] During the album's recording, Carey and Mottola separated, with Carey citing it as her way of achieving freedom, and a new lease on life.[84] Aside from the album's different approach, critics took notice of Carey's altered style of singing, which she described as breathy vocals.[85] Her new-found style of singing was met with mixed reception; some critics felt this was a sign of maturity, that she did not feel the need to always show off her upper range,[86] while others felt it was a sign of her weakening and waning voice.[87][88] The album's lead single, "Honey", and its accompanying music video, introduced a more overtly sexual image than Carey had ever demonstrated, and furthered reports of her freedom from Mottola.[89] Carey stated that Butterfly marked the point when she attained full creative control over her music.[90] However, she added, "I don't think that it's that much of a departure from what I've done in the past [...] It's not like I went psycho and thought I would be a rapper. Personally, this album is about doing whatever the hell I wanted to do."[89] Growing creative differences with producer Afanasieff continued, and eventually ended their working relationship, after collaborating on most of Carey's material.[91] Reviews for Butterfly were generally positive: Rolling Stone wrote, "It's not as if Carey has totally dispensed with her old saccharine, Houston-style balladry [...] but the predominant mood of 'Butterfly' is one of coolly erotic reverie. [... Except "Outside" the album sounds] very 1997. [...] Carey has spread her wings and she's ready to fly."[92] AllMusic editor Stephen Thomas Erlewine described Carey's vocals as "sultrier and more controlled than ever", and heralded Butterfly as one of her "best records and illustrates that Carey continues to improve and refine her music, which makes her a rarity among her '90s peers.'"[93] The album was a commercial success, although not to the degree of her previous three albums.[91] [3]Carey at the Edwards Air Force Base during the making of the "I Still Believe" music video in December 1998.Toward the turn of the millennium, Carey began developing other projects.[94] On April 14, 1998, Carey partook in the VH1 Divas benefit concert, where she sang alongside Aretha Franklin, Celine Dion, Shania Twain, Gloria Estefan, and Carole King.[95] Carey had begun developing a film project All That Glitters, later re-titled to simply Glitter,[96] and intended her songwriting to other projects, such as Men in Black (1997) and How the Grinch Stole Christmas (2000).[94] After Glitter fell into developmental hell, Carey postponed the project, and began writing material for a new album.[94] The executives at Sony Music, the parent company of Carey's label Columbia, wanted her to prepare a greatest hits collection in time for the commercially favorable holiday season.[97] However, they disagreed as to what content and singles should constitute the album.[98] Sony wanted to release an album that featured her number one singles in the United States, and her international chart toppers on the European versions, void of any new material, while Carey felt that a compilation album should reflect on her most personal songs, not just her most commercial.[98] She felt that not including any new material would result in cheating her fans, therefore including four new songs that she had recorded.[98] While compromised, Carey often expressed distaste towards the album's song selection, expressing her disappointment in the omission of her "favorite songs".[99] The album, titled #1's (1998), featured a duet with Whitney Houston, "When You Believe", which was included on the soundtrack for The Prince of Egypt (1998).[98] During the development of All That Glitters, Carey had been introduced to DreamWorks producer Jeffrey Katzenberg, who asked her if she would record the song "When You Believe" for the soundtrack to the animated film The Prince of Egypt.[100] In an interview with Ebony, Houston described working with Carey, as well as their growing friendship: "Mariah and I got along very great. We had never talked and never sang together before. We just had a chance for camaraderie, singer-to-singer, artist-to-artist, that kind of thing. We just laughed and talked and laughed and talked and sang in between that ... It's good to know that two ladies of soul and music can still be friends."[101] #1's became a phenomenon in Japan, selling over one million copies in its opening week, and placing as the only international artist to accomplish this feat.[102] When describing Carey's popularity in Japan throughout the 1990s, author Chris Nickson compared it to Beatlemania in the 1960s.[77] The album sold over 3.25 million copies in Japan after only the first three months, and holds the record as the best-selling album by a non-Asian artist,[102] while amassing global sales of over 17 million copies.[103]
During the spring of 1999, Carey began working on the final album of her record contract with Sony, her ex-husband's label.[104] During this time, Carey's strained relationship with Sony affected her work with writing partner Afanasieff, who had worked extensively with Carey throughout the first half of her career.[104] She felt Mottola was trying to separate her from Afanasieff, in hopes of keeping their relationship permanently strained.[105] Due to the pressure and the awkward relationship Carey had now developed with Sony, she completed the album in a period of three months in the summer of 1999, quicker than any of her other albums.[106] The album, titled Rainbow (1999), found Carey once again working with a new array of music producers and songwriters, such as Jay-Z and DJ Clue?.[107] Carey also wrote two ballads with David Foster and Diane Warren, whom she seemingly used to replace Afanasieff.[107] Rainbow was released on November 2, 1999, to the highest first week sales of her career at the time, however debuting at number two on the Billboard 200.[108] Throughout early-2000, Carey's troubled relationship with Columbia grew, as they halted promotion after the album's first two singles.[108] They felt Rainbow didn't have any strong single to be released, whereas Carey wanted a ballad regarding personal and inner strength released.[108] The difference in opinion led to a very public feud, as Carey began posting messages on her webpage in early and mid-2000, telling fans inside information on the dispute, as well as instructing them to request "Can't Take That Away (Mariah's Theme)" on radio stations.[109] One of the messages Carey left on her page read: "Basically, a lot of you know the political situation in my professional career is not positive. It's been really, really hard. I don't even know if this message is going to get to you because I don't know if they want you to hear this. I'm getting a lot of negative feedback from certain corporate people. But I am not willing to give up."[110] Fearing to lose their label's highest seller, Sony chose to release the song.[110] Carey, initially content with the agreement, soon found out that the song had only been given a very limited and low-promotion release, which made charting extremely difficult and unlikely.[110] Critical reception of Rainbow was generally enthusiastic, with the Sunday Herald saying that the album "sees her impressively tottering between soul ballads and collaborations with R&B heavyweights like Snoop Doggy Dogg and Usher [...] It's a polished collection of pop-soul."[111] Vibe magazine expressed similar sentiments, writing, "She pulls out all stops [...] Rainbow will garner even more adoration".[112] Though a commercial success, Rainbow became Carey's lowest selling album to that point in her career.[90]
2001-2004: Glitter, Charmbracelet, personal & professional struggles
After she received Billboard's Artist of the Decade Award and the World Music Award for Best-Selling Female Artist of the Millennium,[113] Carey parted from Columbia and signed a $100 million five-album recording contract with Virgin Records (EMI Records).[114] Carey was given full conceptual and creative control over the project.[114] She opted to record an album partly mixed with 1980s influenced disco and other similar genres, in order to go hand-in-hand with the film's setting.[115] She often stated that Columbia had regarded her as a commodity, with her separation from Mottola exacerbating her relations with label executives. Just a few months later, in July 2001, it was widely reported that Carey had suffered a physical and emotional breakdown. She had left messages on her website that complained of being overworked,[116] and her relationship with the Latin icon Luis Miguel ended.[117] In an interview the following year, she said, "I was with people who didn't really know me and I had no personal assistant. I'd do interviews all day long and get two hours of sleep a night, if that."[118] Due to the pressure from the media, her heavy work schedule and the split from Miguel, Carey began posting a series of disturbing messages on her official website, and displayed erratic behavior on several live promotional outings.[119] On July 19, 2001, Carey made a surprise appearance on the MTV program Total Request Live (TRL).[120] As the show's host Carson Daly began taping following a commercial break, Carey came out pushing an ice cream cart while wearing a large men's shirt, and began a striptease, in which she shed her shirt to reveal a tight yellow and green ensemble.[120] While she later revealed that Daly was aware of her presence in the building prior to her appearance, Carey's appearance on TRL garnered strong media attention.[119] Only days later, Carey began posting irregular voice notes and messages on her official website: "I'm trying to understand things in life right now and so I really don't feel that I should be doing music right now. What I'd like to do is just a take a little break or at least get one night of sleep without someone popping up about a video. All I really want is [to] just be me and that's what I should have done in the first place ... I don't say this much but guess what, I don't take care of myself."[120] Following the quick removal of the messages, Berger commented that Carey had been "obviously exhausted and not thinking clearly" when she posted the letters.[121] [4]Carey performing "Hero" during her Charmbracelet World TourOn July 26, she was suddenly hospitalized, citing "extreme exhaustion" and a "physical and emotional breakdown".[122] Carey was inducted at an un-disclosed hospital in Connecticut, and remained hospitalized and under doctor's care for two weeks, followed by an extended absence from the public.[122] Following the heavy media coverage surrounding Carey's publicized breakdown and hospitalization, Virgin Records and 20th Century Fox delayed the release of both Glitter, as well as its soundtrack of the same name.[121] Consequently, critics suggested that in delaying Glitter, hype for the project would have largely subsided, and would possibly hurt both ticket and album sales.[123] When discussing the project's weak commercial reaction, Carey blamed both her frame of mind during the time of its release, its postponement, as well as the soundtrack having been released on September 11.[124] Critics panned Glitter, as well as its accompanying soundtrack; both were unsuccessful commercially.[125] The accompanying soundtrack album, Glitter, became Carey's lowest-selling album to that point. The St. Louis Post-Dispatch dismissed it as "an absolute mess that'll go down as an annoying blemish on a career that, while not always critically heralded, was at least nearly consistently successful."[126] Following the negative cloud that was ensuing Carey's personal life at the time, as well as the project's poor reception, her $100 million five-album record deal with Virgin Records (EMI Records) was bought out for $50 million.[114][127] Soon after, Carey flew to Capri, Italy for a period of five months, in which she began writing material for her new album, stemming from all the personal experiences she had endured throughout the past year.[119] Carey later said that her time at Virgin was "a complete and total stress-fest [...] I made a total snap decision which was based on money and I never make decisions based on money. I learned a big lesson from that."[128] Later that year, she signed a contract with Island Records, valued at more than $24 million,[129] and launched the record label MonarC. To add further to Carey's emotional burdens, her father, with whom she had little contact since childhood, died of cancer that year.[130]
In 2002, Carey was cast in the independent film, WiseGirls, alongside Mira Sorvino and Melora Walters, who co-starred as waitresses at a mobster-operated restaurant. It premiered at the Sundance Film Festival, and received generally negative critical response, though Carey's portrayal of the character was praised; Roger Friedman of Fox News referred to her as "a Thelma Ritter for the new millennium", and wrote, "Her line delivery is sharp and she manages to get the right laughs".[131] Later that year, Carey performed the American national anthem to rave reviews at the Super Bowl XXXVI at the Louisiana Superdome in New Orleans, Louisiana.[132] Towards the end of 2002, Carey released her next studio album Charmbracelet, which she said marked "a new lease on life" for her.[118] Though released in the wake of Glitter and Carey's return to the music scene, sales of Charmbracelet were moderate and the quality of Carey's vocals came under criticism. Joan Anderson from The Boston Globe declared the album "the worst of her career, and revealed a voice [that is] no longer capable of either gravity-defying gymnastics or soft coos",[133] while AllMusic editor Stephen Thomas Erlewine expressed similar sentiments and wrote, "What is a greater problem is that Mariah's voice is shot, sounding in tatters throughout the record. She can no longer coo or softly croon nor can she perform her trademark gravity-defying vocal runs."[134] In an attempt to "relaunch" her career following the poor reception to Glitter, as well as her breakdown, Carey announced a world tour in April 2003.[135] Lasting over eight months, the Charmbracelet World Tour: An Intimate Evening with Mariah Carey, became her most extensive tour to date, spanning sixty-nine shows around the world.[136] Throughout the United States, the shows were done in smaller theaters, and something more Broadway-influenced, "It's much more intimate so you'll feel like you had an experience. You experience a night with me."[135] However, while smaller productions were booked throughout the tour's stateside leg, Carey performed at stadiums in Asia and Europe, performing for a crowd of over 35,000 in Manila, 50,000 in Malaysia, and to over 70,000 people in China.[137] In the United Kingdom, it became Carey's first tour to feature shows outside of London, booking arena stops in Glasgow, Birmingham and Manchester.[138] Charmbracelet World Tour: An Intimate Evening with Mariah Carey garnered generally positive reviews from music critics and concert goers, with many complimenting the quality of Carey's live vocals, as well as the production as a whole.[139]
2005-2007: Commercial success with The Emancipation of Mimi
[5]Carey, pictured with former Island Records head L.A. Reid in 2005, at the release party for The Emancipation of MimiThroughout 2004, Carey focused on composing material for her tenth studio album, The Emancipation of Mimi (2005). The album found Carey working predominantly with Jermaine Dupri, as well as Bryan-Michael Cox, Manuel Seal, The Neptunes and Kanye West.[140] The album debuted atop the charts in several countries, and was warmly accepted by critics. Caroline Sullivan of The Guardian defined it as "cool, focused and urban [... some of] the first Mariah Carey tunes in years which I wouldn't have to be paid to listen to again",[141] while USA Today  '​s Elysa Gardner wrote, "The ballads and midtempo numbers that truly reflect the renewed confidence of a songbird who has taken her shots and kept on flying."[142] The album's second single, "We Belong Together", became a "career re-defining"[143] song for Carey, at a point when many critics had considered her career over.[144] Music critics heralded the song as her "return to form",[145] as well as the "return of The Voice",[145] while many felt it would revive "faith" in Carey's potential as a balladeer.[140] "We Belong Together" broke several records in the United States and became Carey's sixteenth chart topper on the Billboard Hot 100.[146] After staying at number one for fourteen non-consecutive weeks, the song became the second longest running number one song in US chart history, behind Carey's 1996 collaboration with Boyz II Men, "One Sweet Day".[146] Billboard listed it as the "song of the decade" and the ninth most popular song of all time.[147] Besides its chart success, the song broke several airplay records, and according to Nielsen BDS, gathered both the largest one-day and one-week audiences in history.[148]
During the week of September 25, 2005, Carey set another record, becoming the first female to occupy the first two spots atop the Hot 100, as "We Belong Together" remained at number one, and her next single, "Shake It Off" moved into the number two spot (Ashanti had topped the chart in 2002 while being a "featured" singer on the number two single).[146] On the Billboard Hot 100 Year-end Chart of 2005, the song was declared the number one song, a career first for Carey.[149] Billboard listed "We Belong Together" ninth on The Billboard Hot 100 All-Time Top Songs and was declared the most popular song of the 2000s decade by Billboard.[150] The album earned ten Grammy Award nominations in 2006–07: eight in 2006 for the original release (the most received by Carey in a single year),[151] and two in 2007 for the Ultra Platinum Edition (from which "Don't Forget About Us" became her seventeenth number-one hit). In 2006 Carey won Best Contemporary R&B Album for The Emancipation of Mimi, as well as Best Female R&B Vocal Performance and Best R&B Song for "[We Belong Together]]".[151] The Emancipation of Mimi was the best-selling album in the United States in 2005, with nearly five million units sold. It was the first album by a solo female artist to become the year's best-selling album since Alanis Morissette's Jagged Little Pill in 1996.[152] At the end of 2005, the IFPI reported that The Emancipation of Mimi had sold more than 7.7 million copies globally, and was the second-best-selling album of the year after Coldplay's X&Y. It was the best-selling album worldwide by a solo and female artist.[153][154][155] To date, The Emancipation of Mimi has sold over 12 million copies worldwide.[156] At the 48th Grammy Awards, Carey performed a medley of "We Belong Together" and "Fly Like a Bird".[157]
In support of the album, Carey embarked on her first headlining tour in three years, named The Adventures of Mimi: The Voice, The Hits, The Tour after a "Carey-centric fan's" music diary.[158] The tour spanned forty stops, with thirty-two in the United States and Canada, two in Africa, and six in Japan.[159] It received warm reaction from music critics and concert goers, many of which celebrated the quality of Carey's live vocals, as well as the show as a whole.[160][161] The tour proved successful, with Carey playing to over 60,000 fans in the two stops in Tunis alone.[162] The Adventures of Mimi DVD was released in November 2007 internationally and December 2007 in the US.
2008-2009: E=MC² & Memoirs of an Imperfect Angel
By spring 2007, Carey had begun to work on her eleventh studio album, E=MC², in a private villa in Anguilla.[163] When asked about the album title's meaning, Carey said "Einstein's theory? Physics? Me? Hello! ...Of course I'm poking fun."[164] She characterized it as "Emancipation of Mimi to the second power", and said that she was "freer" on this album than any other.[164] Although E=MC² was well received by most critics,[165] some of them criticized it for being very similar to the formula used on The Emancipation of Mimi.[166] Two weeks before the album's release, "Touch My Body", the record's lead single, reached the top position on the Billboard Hot 100, becoming Carey's eighteenth number one and making her the solo artist with the most number one singles in United States history, pushing her past Elvis Presley into second place according to the magazine's revised methodology.[167] Carey is second only to The Beatles, who have twenty number-one singles. Additionally, it gave Carey her 79th week atop the Hot 100, tying her with Presley as the artist with the most weeks at number one in the Billboard chart history."[168] [6]Carey at the 2008 Tribeca Film Festival, displaying her engagement ringE=MC² debuted at number one on the Billboard 200 with 463,000 copies sold, the biggest opening week sales of her career.[169] With six number one albums, Carey was tied with Britney Spears and Janet Jackson in the United States for the third most number one albums for a female artist, behind Madonna with eight and Barbra Streisand's ten chart toppers.[38] In 2008, Billboard magazine ranked her at number six on the Billboard Hot 100 All-Time Top Artists, making Carey the second most successful female artist in the history of the Billboard Hot 100 chart.[170] That year, Carey also played an aspiring singer named Krystal in Tennessee[171] and had a cameo appearance in Adam Sandler's film You Don't Mess with the Zohan, playing herself.[172] Since the album's release, Carey had planned to embark on an extensive tour in support of E=MC².[173] However, even after a formal announcement, the tour was suddenly cancelled in early December 2008.[174] Carey later stated that she had been pregnant during that time period, and suffered a miscarriage, hence she cancelled the tour.[175][176] On January 20, 2009, Carey performed "Hero" at the Neighborhood Inaugural Ball after Barack Obama was sworn as the first African-American president of the United States.[177] On July 7, 2009, Carey – alongside Trey Lorenz – performed her version of The Jackson 5 song "I'll Be There" at the memorial service for Michael Jackson.[178]
In 2009, she appeared as a social worker in Precious, the movie adaptation of the 1996 novel Push by Sapphire. The film garnered mostly positive reviews from critics, as had Carey's performance.[179] Variety described her acting as "pitch-perfect".[180] Precious won awards at both the Sundance Film Festival and the Toronto Film Festival, receiving top honors there.[181][182] In January 2010, Carey won the Breakthrough Actress Performance Award for her role in Precious at the Palm Springs International Film Festival.[183] On September 25, 2009, Carey's twelfth studio album, Memoirs of an Imperfect Angel, was released. Reception for the album was generally positive, but mixed in certain aspects; Stephen Thomas Erlewine of AllMusic called it "her most interesting album in a decade",[184] while Jon Caramanica from The New York Times criticized Carey's vocal performances, decrying her overuse of her softer vocal registers at the expense of her more powerful lower and upper registers.[185] Commercially, the album debuted at number three on the Billboard 200, and became the lowest-selling studio album of her career.[186] The album's lead single, "Obsessed", became her 40th entry on the Billboard Hot 100 and her highest debut on the chart since "My All" in 1998.[187] The song debuted at number eleven and peaked at number seven on the chart, and became Carey's 27th US top-ten hit, tying her with Elton John and Janet Jackson as the fifth most top-ten hits.[187] The album's follow-up single, a cover of Foreigner's "I Want to Know What Love Is", failed to achieve any significant chart success in the United States, or much throughout Europe, but managed to break airplay records in Brazil. The song spent 27 weeks atop the Brasil Hot 100 Airplay, making it the longest running song in the chart's history.[188]
On December 31, 2009, Carey embarked her seventh concert tour, Angels Advocate Tour, which visited the United States and Canada.[189] Though stateside, the tour spanned few international dates, such as in Brazil and Singapore, where Carey played to over 100,000 spectators. The tour ended on September 26, 2010.[190] On January 30, 2010, it was announced that Carey would release a remix album of Memoirs of an Imperfect Angel; titled Angels Advocate (an R&B remix album featuring a collection of newly remixed duets with some of Carey's favorite artists).[178] The album was slated for a March 30, 2010 release, but was eventually cancelled.[191]
2010-2014: Merry Christmas II You, American Idol & Me. I Am Mariah... The Elusive Chanteuse
Following the cancellation of Angels Advocate, it was announced that Carey would return to the studio to start work on her thirteenth studio album.[192] It was later revealed that it would be her second Christmas album, and follow-up to Merry Christmas.[63] Longtime collaborators for the project included Jermaine Dupri, Johntá Austin, Bryan-Michael Cox, and Randy Jackson, as well as new collaborators such as Marc Shaiman.[193] The release date for the album, titled Merry Christmas II You, was November 2, 2010;[194] the track list included six new songs as well as a remix of "All I Want for Christmas Is You".[195] Merry Christmas II You debuted at number four on the Billboard 200 with sales of 56,000 copies, becoming Carey's 16th top ten album in the United States.[196] The album debuted at number one on the R&B/Hip-Hop Albums chart, making it only the second Christmas album to top this chart.[197] [7] Following the birth of her twins Moroccan and Monroe Mariah Carey spent alot of her down time making her appearances with her perfume and shoe lines with HSN selling more than 30,000 and hour or more and she also gave an insight on how things were going at home after they welcomed home their twins. singing "Beautiful" Live on Good Morning America, May 24, 2013In May 2010, Carey dropped out of her planned appearance in For Colored Girls, the film adaptation of the play For Colored Girls Who Have Considered Suicide When the Rainbow Is Enuf, citing medical reasons.[198] In February 2011, Carey announced that she had officially began writing new material for her upcoming fourteenth studio album. Carey recorded a duet with Tony Bennett for his Duets II album, titled "When Do The Bells Ring For Me".[199] In October 2011, Carey announced that she re-recorded "All I Want for Christmas Is You" with Justin Bieber as a duet for his Christmas album, Under the Mistletoe.[200][201] In November 2011, Carey was included in the remix to the mixtape single "Warning" by Uncle Murda; the remix also features 50 Cent and Young Jeezy.[202] That same month, Carey released a duet with John Legend titled "When Christmas Comes", originally part of Merry Christmas II You. she released her only duet " Oh come ye faithful and H. Chorus" with her mother Patricia Carey who was and is a retired opera singer and vocal couch.[203]
On March 1, 2012, Carey performed at New York City's Gotham Hall; her first time performing since pregnancy.[204][205] She also performed a three song set at a special fundraiser for US President Barack Obama held in New York's Plaza Hotel. A new song titled "Bring It On Home", which Carey wrote specifically for the event to show her support behind Obama's re-election campaign, was also performed.[206] In August 2012, she released a stand alone single, "Triumphant (Get 'Em)", featuring American rappers Rick Ross and Meek Mill and co-written and co-produced by Carey, Jermaine Dupri, and Bryan-Michael Cox.[207][208] Carey joined the judging panel of American Idol season twelve as Jennifer Lopez's replacement, joining Randy Jackson, Nicki Minaj and Keith Urban.[209][210] In November 2013, she explained about hating to work at American Idol adding, "It was like going to work every day in hell with Satan", referring to her on-set squabbles with Minaj.[211][212] Carey appeared in Lee Daniels' 2013 film The Butler, about a White House butler who served eight American Presidents over the course of three decades.[213][214] Carey made guest voice-star as a redneck character on the adult animated series American Dad! on November 24, 2013.[215][216]
In February 2013 Carey recorded and released a song called "Almost Home", for the soundtrack of the Walt Disney Studios film Oz the Great and Powerful. The video was directed by photographer David LaChapelle.[217][218] News started coming around about the singer's fourteenth studio album.[219] Some of the people that Carey worked with on the album included: DJ Clue?, Randy Jackson, Q-Tip, R. Kelly, David Morales, Loris Holland, Stevie J, James Fauntleroy II, Ray Angry, Afanasieff, Dupri, Bryan-Michael Cox, James "Big Jim" Wright, Hit-Boy, The-Dream, Da Brat, and Rodney Jerkins. Carey told Billboard: "It's about making sure I have tons of good music, because at the end of the day that's the most important thing... There are a lot more raw ballads than people might expect...there are also uptempo and signature-type songs that represent [my] different facets as an artist".[220]
The lead single, "Beautiful" featuring singer Miguel, was released on May 6, 2013, and peaked at number 15 on the Hot 100.[221] Carey taped a performance of "Beautiful" along with a medley of her greatest hits on May 15, 2013; the taping aired on the American Idol finale the following day.[222] On October 14, 2013, Carey announced that the album's former title track has been chosen as the second single; it premiered via Facebook on November 11, 2013. During a Q&A session following the song's release, Carey gave an update about the album, stating: "Now I've been inspired to add two more songs, so we're almost there. I can't even express this properly but I feel like this is gonna be my favorite album".[223] Following another song release, "You're Mine (Eternal)",[224] it was announced that The Art of Letting Go would no longer be the title of the album.[225] After the final name was announc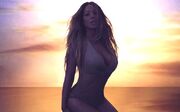 ed, Me. I Am Mariah... The Elusive Chanteuse was released on May 27, 2014. A fourth single, "You Don't Know What to Do" featuring rapper Wale, was released on June 30, 2014 with limited success, not charting in her home country 
of the US but peaking at number 2 on the South Korea GAON International chart and 14 on the Belgium Ultratip Wallonia chart.[226]
2015-present: Residency show in Las Vegas & #1 to Infinity
On January 15, Carey announced that she will be taking up residency at The Colosseum at the Caesars Palace hotel in Las Vegas. She confirmed the residency deal in a pre-recorded interview on The Ellen DeGeneres Show. Speaking of the residency, Carey said "I'm going to do my first ever residency in Vegas at Caesars. This is a special event for me. And again, I have to hope that the fans will enjoy this cause I'm gonna be performing, which was kind of inspired by my album #1's, and this is now the updated version with eighteen of them. Hopefully other people will enjoy this. I've never done this before." She further commented "It's a new chapter for me and I'm just excited about it." To coincide with the residency, Carey is set to release #1 to Infinity, a greatest hits compilation which will contain all of her eighteen Billboard Hot 100 number one singles. The confirmation comes after Céline Dion announced that she has postponed dates of her residency at Caesars Palace to take care of her husband, René Angélil, who was suffering from ill health.[227] On January 30, it was announced that Carey has left Universal Music Group's Def Jam Recordings to re-unite with L.A. Reid and Sony Music via Epic Records.[228][229][230]
Engagements
Weddings
Gallery
"Them Chickens is ash and i'm lotion"
To view the
Mariah Carey
gallery, click
here
.
Trivia
Mariah was named after Harve Presnell's song, They Call the Wind Mariah.
Mariah's Irish-American on Patricia's side and African-American & Venezuelan-American on Alfred's side.
Mariah's full name in Venezuela is Mariah Carey Hickey.
Mariah was 3 when Patricia & Alfred got divorced.
Mariah was 23 when she married Tommy.
Mariah was 27 when she & Tommy got divorced.
Mariah was 38 when she married Nick.
Mariah was 41 when she gave birth to Monroe & Moroccan.
Mariah was 45 when she & James got engaged.
Mariah was 46 when she & James split and when she & Nick got divorced.
External links