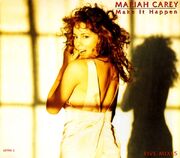 "Make it Happen" is a song and the third single by Mariah Carey from her second album, "Emotions." The song was written and produced by Mariah Carey, David Cole, and Robert Clivillés. The song was officially released on April 4, 1992 and is the final single released in the U.S.
Song Information
Edit
"Make It Happen" is a dance/gospel hybrid in which Mariah sings "if you believe in yourself enough and know what you want, you're going to make it happen."
Song Performance
Edit
Mariah Carey performed an acoustic version of the song on the television show MTV Unplugged in 1992, and her setlist for the show was later released on the EP MTV Unplugged. Reviewing Carey's Unplugged appearance, "Rolling Stone" magazine called "Make It Happen": "a somewhat obnoxious slice of self-help dance rhythm in its original version, is transferred into a bubbly gush of pure pop." Another version is a remix by the song's original producers, David Cole and Robert Clivillés, titled the C+C classic version.
Music Video
Edit
The single's music video, directed by Marcus Nispel, features Mariah holding an impromptu benefit concert inside a church slated for closing.
Chart Performance
Edit
Carey's first five U.S. singles had reached number 1 on the U.S. Billboard Hot 100; her sixth, "Can't Let Go", had reached number 2. Pressure was put on "Make It Happen" to become Carey's next number 1 hit, but it peaked at number 5. It remained in the top forty for sixteen weeks and was one of the year's bigger hits, being ranked 42 on the 1992 Hot 100 year-end chart. It received heavy radio airplay but sold moderately, and its high peak on the U.S. charts was because airplay statistics were beginning to be given more consideration in the compiling of Billboard charts than sales statistics.
The single became Carey's first in the U.S. not to top any other Billboard chart, and underperformed outside the U.S. like "Can't Let Go". It became her first single to miss the top ten in Canada, but it fared slightly better than the previous single in the United Kingdom and Australia.
Like every earlier U.S. single release from Carey, it won a BMI Pop Award. This made every single from Emotions a BMI award winner, matching the record set by her debut album, "Mariah Carey (album)."
Country
Peak
position
U.S. Billboard Hot 100
5
U.S. Billboard Hot Adult Contemporary Tracks
13
U.S. Billboard Hot Dance Music\Club Play
16
U.S. Billboard Hot R&B/Hip-Hop Songs
7
Australian Singles Chart
35
Canadian Singles Chart
16
Dutch Singles Chart
59
German Singles Chart
74
UK Singles Chart
17
---