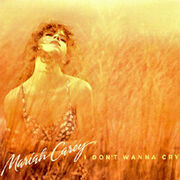 "I Don't Wanna Cry" is a song and the fourth single by Mariah Carey from her debut album, Mariah Carey. The song was written by Mariah Carey and Narada Michael Walden, and produced by Narada Michael Walden. The song was recorded in 1990 and the single was officially released on April 25, 1991 during the second quarter of 1991. The song became Mariah's 4th #1 hit song of her career.
Song Information
Edit
"I Don't Wanna Cry" was Carey's first single that she did not co-write with Ben Margulies. When she and Narada Michael Walden first wrote the song, Mariah was excited because it sounded like something that would be played on the radio. Because of bad experiences during its production and because she feels it "doesn't have a message," Mariah stated in a MTV interview that she dislikes the song and tries to sing it as rarely as possible. Mariah had lobbied to co-produce the song, but was denied permission by Columbia Records. She often fought with Narada Michael Walden in the studio concerning the song's production, and as a result, he became her least favorite among the producers who worked on her debut album. Narada Michael Walden's protégé at the time, Walter Afanasieff, later said that he co-wrote and produced the song, and that in return for giving Walter Afanasieff the work, Narada Michael Walden took the credit.
Chart Performance
Edit
"I Don't Wanna Cry" became Mariah's 4th #1 hit song of her career, making her the second music act (and first female and solo artist) to have their first 4 single hit the top of the Billboard Hot 100. The song reached up to #1 during its 8th week on the charts, spending two weeks on the top of the Billboard Hot 100 from May 25 to June 1st.
"I Don't Wanna Cry" replaced R&B group Hi-Five's song, "I Like the Way (The Kissing Game)" from the top of the charts. The song became Mariah's third #1 single to hit the top of Billboard's Hot Adult Contemporary Tracks chart. The song peaked at #7 in Canada and #49 in Australia, but it failed to chart elsewhere.
Music Video
Edit
The single's music video which was directed by Larry Jordan, features Mariah in a dark Midwest home and in maize, brooding over her tainted relationship.
Part of an alternative version of the music video was released on the DVD/home video The First Vision (1991), and the original, more familiar version was included on Mariah's DVD/home video "#1's" in 1999 as a director's cut. The 1991 version had a few sepia-toned sequences that were eliminated and replaced for the DVD release. It was the only video from Carey's debut album to be included on #1's, because she was ashamed of the three previous music videos.
Country
Peak
position
Australian Singles Chart
49
Canadian Singles Chart
7
U.S. Billboard Hot 100
1
U.S. Billboard Hot Adult Contemporary Tracks
1
U.S. Billboard Hot R&B/Hip-Hop Songs
2
---
Community content is available under
CC-BY-SA
unless otherwise noted.