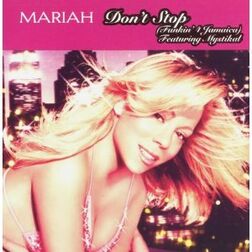 Don't Stop (Funkin' 4 Jamaica) is a song by Mariah Carey featuring rapper Mystikal for her eighth studio album, "Glitter." The song was released on December 10, 2001. It was written and produced by Mariah, DJ Clue, Doro, and Mystikal. The song samples Tom Browne's song, "Funkin' for Jamaica (N.Y.)" and featured rapped parts by Mystikal in which he raps in a voice evocative of the late James Brown.
Music Video
[
]
The video was directed by Sanaa Hamri. It featured Mariah and Mystikal in "southern style" clothes and hairstyles along with three versions of Mariah singing in a microphone at one time. In the film, the song appears in the scene where producer Julian "Dice" Black met Billie Frank (portrayed by Mariah) and invites her to a freestyle jam session at his club. The video received heavy airplay on MTV.
Charts
[
]
The song was a commercial flop, only managing to peak at #23 on Billboard's Bubbling Under Hot 100 Singles chart, but peaked at #42 on Billboard's Hot R&B\Hip-Hop Singles chart. It managed to chart in the Top 40 in the UK and Australia as part of a double A-side with the song, "Never Too Far." The song also managed to chart in Belgium, the Netherlands, Spain, Switzerland, and the United Kingdom as well.